7/22/2021
September 18: Tour to Memory Lane
Join us Saturday, September 18th as we cruise to Memory Lane at Rogersville, TN. 
Memory Lane is a private 1950's village built by Otis & Kathy Eldridge.  The village features an automobile dealership, country store, gas station, classic diner, jail, and a church, as well as other attractions!  You don't want to miss this one!  Pack a picnic lunch and lawn chairs and we will plan on eating on the grounds or in the Studebaker Diner at Memory Lane!  The ETR AACA will furnish cold water to drink!  If you would prefer a drink other than water bring the drink you wish but note that no alcoholic beverages are allowed at Memory Lane.  We need a final count of those attending so we can plan this activity so please RSVP by September 10th to:
Roger Frazee [email protected]
865-803-3412
 or RG Lewallen [email protected]
865-310-8543
6/9/2021
From Sherry Bundren, Events Coordinator
We're rolling into the second half of the year and it's been great to be out again.  Wanted to send a reminder and information on upcoming events.  
This Saturday (June 12 from 9-1) is the June club event at First Baptist Church in Lenoir City.  They will have cars, trucks, motorcycles and tractors.  The show is free and they will have free food and prizes.  It's always a good show and Matt Sartin is helping to organize this event.  See the attached flyer below.  The address for the church is 2508 Simpson Rd. E, Lenoir City, TN 37772.
Also this weekend is the Cabin Fever Show at the Expo Center in Knoxville.  It runs from Saturday to Sunday.  More Information is in the flyer attached.
Mopar in the Mountains is June 10th-13th in Pigeon Forge.  Flyer attached.
Morristown is having a Meet Downtown this Saturday at 7pm.  See flyer attached.
Sweetwater is having Cars & Coffee Saturday 6/12/21 starting at 10am.  See flyer attached.
The Redneck Rumble car show & swap meet is 6/11-12, 2021 in Lebanon, TN.  More information in flyer attached.
The 37th annual Moonshine Rod Run is being held on 6/18-19 at Newport City Park.  There will several members of the club going to this event on Saturday, so if you are interested in traveling with the group, contact Tim Seay at 865-604-1586. 
2/12/2021
From Tom Cox, AACA VP Public Relations:
Unfortunately the Spring Charlotte Auto Fair hosted by the Hornets Nest Region AACA has been canceled due to the ongoing pandemic and continued restrictions. However, we are working to find an acceptable location for the AACA Spring Nationals car show in the area which allows for an appropriate gathering. Stay tuned.
12/17/2020
From Mark McAlpine, VP National Events
Due to the current state of the COVID-19 pandemic and the recent mandates by the Governor of Pennsylvania, the 2021 AACA Annual Convention has been rescheduled to Thursday-Saturday, April 15-17, 2021.  The venue remains the same:  the recently remodeled Sheraton Downtown Hotel in Philadelphia, PA.  We intend to have as much of our usual Annual Convention as possible, complete with informative seminars, the trade show, and, of course, the National Awards Banquet & Ceremony.
11/20/2020
From: Robert and Sandra Quillin
Impromptu Driving Tour to Fort Loudoun State Historic Area—Saturday, November 21
We have been enjoying the beautiful weather this week and since this may be the last good chance to drive our antique cars before winter hits — we are sponsoring another Impromptu Tour for those members who would like to get out of the house.  We made this drive this week and really enjoyed traveling down these country roads.  We thought this would be a great socially distanced activity.  Please plan to wear a mask when you are out of the car and cannot be socially distanced!!
Fort Loudoun State Historic Park is 1,200-acres and is one of the earliest British fortifications on the western frontier.  Fort Loudoun was a British colonial-era fort located in what is now Monroe County, Tennessee, United States. Built in 1756 and 1757 to help garner Cherokee support for the British at the outset of the Seven Years' War, the fort was one of the first significant British outposts west of the Appalachian Mountains.  Fort Loudoun is a U.S. National Historic Landmark. Copied from the Fort Loudoun website.
Itinerary—November 21:
1:30 p.m. Depart from the Sears parking lot of the Foothills Mall in Maryville
Turn right out of the mall onto Mall Road.
Turn left onto Foothills Mall Road, thru traffic lights, cross US 411 and…
Turn right and drive south 5.3 miles on Old Niles Ferry Road to US 129.
Turn left onto US 129 S, drive 8.1 miles.
Turn right to drive 11.7 miles on TN 72 W
Turn left onto US 411 S, Caution: No light for this left turn! 
Drive 2 miles to traffic light, turn left onto Unicoi Turnpike, TN 360.
Drive 2.0 miles to Fort Loudoun State Historic Site.
Total Drive: 29.1 miles
At the Park: Walk around on your own, no meeting, walk over to the Fort Loudoun fort site, tour buildings which are open…  Enjoy the views of the water, the mountains, and the good clean air!
Participants will leave the tour as they wish.
Please call us and let us know if you are considering participating in this drive – Robert and Sandra, 865-742-1677 or email at [email protected]. 
9/27/2020
OFFICIAL NOTICE REGARDING THE  NEW SPECIAL FALL MEET FROM THE AACA NATIONAL BOARD OF DIRECTORS 
We are proud to announce we will host a Special Fall Nationals on November 6-7 at the Wyndham Hotel complex in Gettysburg, PA.  
Everything is onsite, trailer parking, host hotel along with a Marriott Courtyard next door and judging school.  Gettysburg is a great place to find activities in a historic location that offers so much to see.  The potential for cancelation is extremely remote.  We have a well thought out and proven plan. Yes, masks and temperature taking just as we had planned for Hershey will be a requirement. 
Your previous checks will be shredded so please do not worry about them being cashed.  We will be sending a registration for Gettysburg.  Please fill it out and send it in right away.  The Host Hotel is the Wyndham 717-339-0020 and the Marriott Courtyard next door is 717-334-5600.  There is a restaurant on the grounds as well.  We even have overflow trailer parking if needed directly across the street.  Average weather at that time of the year is typical fall.  It will be a great show! 
Judges, you will get a judge's hat from Hershey as a bonus so please join us.  We need you!
With only three shows this year it may be a great chance for your show car to win a national award as well.  So please join us, it WILL be a great event!!
9/18/2020
On Saturday, 9/19/20:
The Tally Ho Inn is hosting a car show held by the Hudson group and invited all "Orphan" cars to come and be a part of it.  The British cars and the Studebakers are also participating.  Starts at 9am and is a non-judged show.  There is a $10 charge to register your car, but you can come and look for free. Bring your "Orphan" car and have some fun!
KNOXVILLE TN: Rods in the City Car Show: Event to be held at Powell Church, 323 W. Emory Road. Times: 9:00am to 3:00pm.  Awards include: Best of Show, Best Paint, Best Display, TOP Sedan, TOP Truck, TOP Muscle Car & TOP Street Rod.  Judging at 3:00pm. The show will benefit Tennessee Valley Coalition for the Homeless.  To Register, visit their WEBSITE at http://www.rodsinthecity.com/  or contact 757-613-5518.
The Rod Run is going on in Pigeon Forge this weekend.  
On Saturday, 9/26/20:
The club is taking tour hosted by J.W. and Patricia Weeks down to Sweetwater, TN where members may enjoy visiting the various eateries, antique and specialty shops on their own. Prior to getting to Sweetwater, we will be making a stop at the car show at Vonore Baptist Church, which always has a good showing of cars. Members may conclude their Tour participation at Sweetwater or drive up highway US 11 North toward Knoxville where they will see numerous signs to I-75 should they prefer to speed their journey home. The group will meet at Foothills Mall in Maryville outside the vacant Sears store and plans to leave promptly at 10am.
Art Fensod shared that The Scotch/Irish Festival will be in Dandridge, Tennessee on 9/26/20. The event is free.
Art also shared that there is a car show in Cleveland, Tennessee on 9/26/20 and usually has 200-300 cars. 
The Southeast Gassers are racing at the Knoville Dragstrip on 9/26/20. Qualifying at 3pm. 
Keep those wheels rolling!
Sherry Bundren
ETR AACA
Events Coordinator
865-705-6760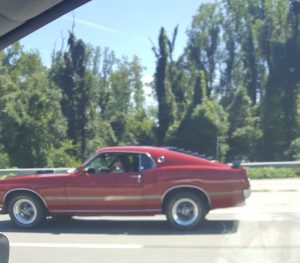 Do you know who owns this beautiful Mustang? Please read the email below that was sent to the East Tennessee Region email address:
"I live in Macon, Georgia and yesterday while driving to Knoxville to see my son who lives there, I was behind a group of 4 classic cars.  Behind me was I believe a Mach I.  I did pull over to the right lane so he/she would pass me as I wanted a photo.  This car meant the world to me to see.  You see on October 31, 1970 at a stop sign I was driving a friends red mustang (just a normal mustang) and then to my right pulled up this beautiful 1969 Mach I with a cobra jet and a guy yelled over do you know where a party is and (girlfriend was with) we said follow us and he did.  There is more to this story of course but in 1973 this man and I married.  That car was long ago sold but holds so many memories – his was a candy apple red—not sure if the one I saw yesterday was but it was close if it wasn't.
I'd love to find the driver of this car—she was a female and they took an exit and according to my phone I was in Farragut, TN.  I'd love to tell this woman how much it meant to see this car.  I lost my husband two years ago to the widow maker and we were together almost 48 years.  Halloween is coming up and that day holds special meaning as we met on Halloween night and next month it will be 50 years ago that those two red mustangs were at the stop light in Bellevue, Washington.
I hope this story makes you smile and obviously you are a driver of a classic car—you never know what your car means to somebody on the road.
Please let me know if you know who she is and a way to contact her etc.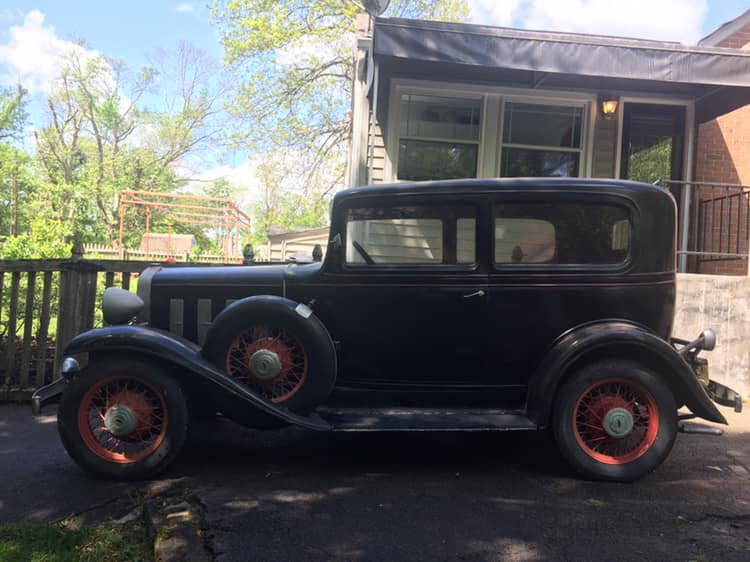 Added 5/8/2020: The following email was received recently from an East Tenessee resident needing help with their 1932 Chevrolet.  If you can help get this beautiful car running, please send an email to [email protected]
My son and I have a 1932 Chevrolet Confederate and need to to find someone who can get it in driveable shape. The car is at my son's home in Knoxville (I live in Kingsport). It rolls, brakes, and steers but does not run. The car has been in my family since my great grandparents bought it new. I'm not really interested in turning it into a show car, I just want us to be able to drive it.
All that being said, would you have any advice in terms of someone we might contact to do the work?